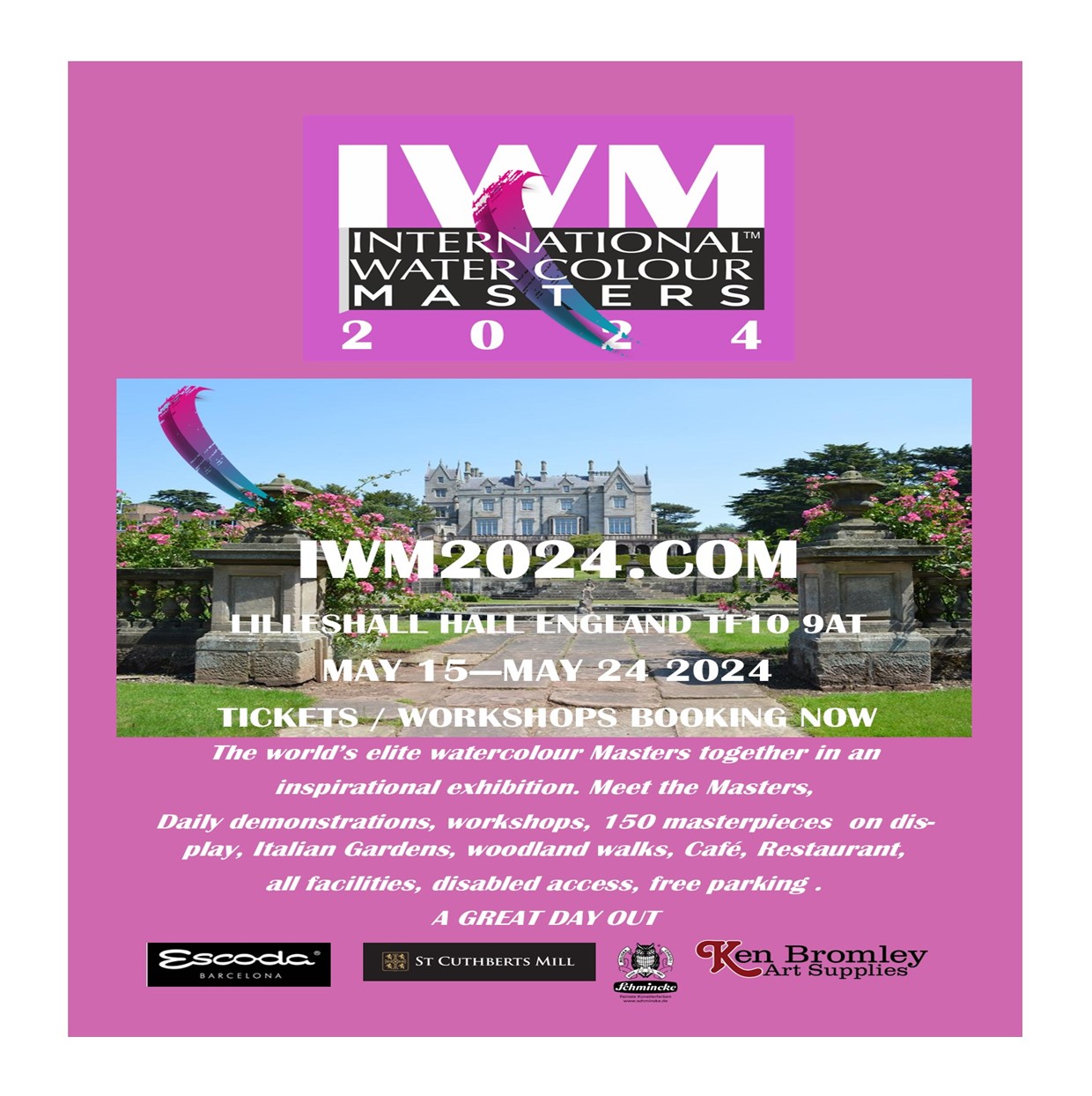 IWM2024 CONTEST WINNERS LIST
CONGRATULATIONS
Out of 2755 Entries from 105 Countries The below list contains the winners of the IWM2024 Contest.
This list contains the WORLD TOP 200 + RISING STARS + EXCELLENCE AWARDS
Judging was by 24 Masters and Industry professionals ensuring total integrity, honesty, and fairness.
All Top 200 winners +  Rising Stars +  Excellence Award winners will have their beautiful paintings projected and displayed virtually on
a giant screen in the main exhibition arena at IWM2024 Lilleshall England in May 2024. Your painting will be seen by a huge live audience + millions online.
The Final Top 10 winners will be announced on September 20th.
All International Watercolour Masters event info including tickets and workshops , hotels and travel, 
Congratulations to all and commiserations to those that missed out this time. Keep going your time will come !
Kind Regards and hope to see you all at IWM2024 England.
IWM2024 = The most spectacular watercolour elite festival in the world – AON Magazine
David Poxon RI NWS and the entire IWM2024 Event Team
AWARD WINNERS IWM2024 CONTEST
Adam Papke – POLAND
Adrian Aleluya – PHILIPPINES
Adriana Toso – GERMANY
Agnes Geets – BELGIUM
Agnieszka Trotta – ITALY
Alessandro Petti – ITALY
Alexa Dilla – GERMANY
Alexis Le-Borgne – FRANCE
Alfiya Safi – KAZAKHSTAN
Amanda Cal – SINGAPORE
Amapola-Herrera – SPAIN
Ana Radivilovic – LITHUANIA
Anahedberg – USA
Anatolii Korobkin – GEORGIA
Andre Farnier – FIERTE-DE-LOIE
Andre Kano – PORTUGAL
Andrew Dawson – UK
Andrew Storrie – ENGLAND
Andrey Samolinov – RUSSIA
Angela Malone – ENGLAND
Aniket Mahale – INDIA
Anita Rosvall – SWEDEN
Anna Szostak-Grzyb – POLAND
Anne Jacqueline Lazaroo – MALAYSIA
Arpita Lahri – INDIA
Astrid Van-Twillert – NETHERLAND
Baffet – FRANCE
Bancha Ma – THAILAND
Beatrice Jansson – SWEDEN
Benny Stigsson – SWEDEN
Beth Watkinms – UK
Bo Hoflin – SWEDEN
Boonk Wang – THAILAND
Carla Petrini – BRAZIL
Carmella Tuliszewski – USA
Carmen Alvarez – SPAIN
Carol Davidson – ENGLAND
Caroline Peters – BELGIUM
Cass Gartner – AUSTRALIA
Catherine Beale – UK
Cecile Grenier – CANADA
Charlotte Bech – DENMARK
Chiara Bartolucci – ITALY
Chiara Botturi – ITALY
Chien Chiung Chu – TAIWAN
Chris Lockwood – UK
Christine Berlinson-Esser – GERMANY
Christine Crehalet – FRANCE
Christine Dessa – UAE
Claudia Llobera – SPAIN
Colleen Helmore – AUSTRALIA
Cornelia Böhme – GERMANY
Dana Ingesson – SWEDEN
Daniela Tovar – PERU
Danny Boon – MALAYSIA
Daria Fedyaeva – ITALY
Dave Betty – UK
David L Stickel – USA
Debbra Nodwell – CANADA
Deborah Aldrich – USA
Deborah Townsend – UK
Deborah Pugh – Uk
Deepika Ramshetty – INDIA
Dellene Strong – AUSTRALIA
Denise Derbez – CANADA
Denny Samawa – INDONESIA
Diana Boanas – ENGLAND
Diana Nobs – SWITZERLAND
Domizia Parri – ITALY
Dong Li – CANADA
Dongmei Yin – TAIWAN
Doreen Chan – CANADA
Dorel Cozma – ROMANIA
Dragan Ivanovski – NORTH MACEDONIA
Ekaterina_Maltseva – ITALY
Elena Palmroos – FINLAND
Elena Pitteloud – SWITZERLAND
Elham Ellie Talayminaei – UK
Elia Leung – HONG KONG
Elke Memmler – GERMANY
Elwin Joseph – US VIRGIN ISLANDS
Emma Hagberg – DENMARK
Emmanuel Blot – FRANCE
Enzo Audruet – ITALY
Erika Kocsi – HUNGARY
Ernesto Barbera – SPAIN
Escalante Elie – ELSALVADOR
Fanny Wong – HONG KONG
Farideh Eshaghi – IRAN
Florian Schaab – GERMANY
France Malnati – FRANCE
Francis Lee – MALAYSIA
Francisco Javier Torres – SPAIN
Frank Wengen – USA
Fu Man Yat – HONG KONG
Geoff Butterworth – ENGLAND
Gerard Hendriks – NETHERLAND
Gert Pruik – NETHERLANDS
Gill Harwood – UK
Gillian Dambrosio – UK
Graeme Peatfield – ENGLAND
Gudrun S Sharpley – UK
Guy Troughton – AUSTRALIA
Guzman Emilio Huanca Yanariko – PERU
H Rank Broadley – UK
Haninhuang Wong – USA
Harsh Agrawal – UK
HONG Thu Ha – Vietnam
Ida Tentolini – ITALY
Inga Knysh – UK
Irina Yushmanova – MEXICO
Irina Sanotskaya – ITALY
Jack Chang Kean Chiat – MALAYSIA
Jacky Pearson – NEW ZEALAND
James Aynsley – UK
Jane Wise – USA
Jane Boyce – UK
Jan Min – NETHERLANDS
Jennifer Alsop – UK
Jesper Hoerberg – SWEDEN
Jill Bryant – AUSTRALIA
J M Littleton – USA
Joanna Natora – POLAND
John Haywood – ENGLAND
John Wong – HONG KONG
Jonathan Hollowell – ENGLAND
Judith Offord – ITALY
Judith Jerams – UK
Judy Saltzman – USA
Kanya Kato – JAPAN
Karen Heidler – USA
Katarina Vidmar – SLOVENIA
Katarzyna Kmiecik – POLAND
Kate Zwolinska – POLAND
Katerina Lukasova_- CZECH REPUBLIC
Kathleen Mooney – USA
Keiji Kikumoto – JAPAN
Kelly Eddington – USA
Kelly Eddington – USA
Kevin Clifford – USA
Kristiina Roots – ESTONIA
Kristiina Zadin – Estonia
Laleh Bagherzadi – USA
Lan Fang – CANADA
Lanacease – USA
Larysa Ponomarenko – UKRAINE
Lehel Fuchs – HUNGARY
Leni Fujimoto – BRAZIL
Leonora de-Lange – SCOTLAND
Liezel Schultz – IRELAND
Lisa Arnold Franklin – USA
Lisa Jefferson – USA
Liz Coles –
Liz Yule – SCOTLAND
Lois Thompson – ENGLAND
Lois Davidson – UK
Lorena Massa – ITALY
Louise Saward – ENGLAND
Lucia Zamburlini – ITALY
Lucy Marks – UK
Lucy Pulvers – AUSTRALIA
Luisella Zuccato – LUXEMBOURG
Lukasz-Ogrodowczyk – POLAND
Mahsa Mehdizadeh – IRAN
MaiNguyen Vietnam – NOMANLAND
Margaret Washington – USA
Maris Zammit – MALTA
Mary Rollins – USA
Masahiro Okayama – JAPAN
Masoud Seivani – CANADA
Megumi – JAPAN
Michiyo Fukushima – USA
Miett Tajthy – NETHERLANDS
Mika Kinoshita – JAPAN
Mike Kowalski – AUSTRALIA
Mikiko Yamauchi – JAPAN
Minnie Pun – HONG KONG
Molly Awmunleng – MALAYSIA
Mongkol Srisombat – THAILAND
Neil Wrynne – UK
Nguyen Hoai Nam – VIETNAM
Nicholas Tobias – UK
Nitya Ramtilak – INDIA
Olga Beliaeva – RUSSIA
Pam Renhard – ENGLAND
Parviz Aliyev – AZERBAIJAN
Patrick Leclere – FRANCE
Paula Fiebich – USA
PreetiSen – INDIA
Rebecca Krutsinger – USA
Rebecca Rogers – GERMANY
Rebecca Mentz – USA
Rita Dauchot – BELGIUM
Robert Austin – UK
Rose Butler – CANADA
Rosemary Tannock – CANADA
Sheila Taylor – UK
Shelley Prior – CANADA
Shiho Suzuki – JAPAN
Sian Thomas – UK
Silvia Trad – BRAZIL
Sima Torkaman – IRAN
Sol Indurain – UK
Sonia Bomben – ITALY
Sophia Manousos – USA
Sophie Penstone – ENGLAND
Stephen E Wise – UK
Sue Bradley – ENGLAND
Sue Welsby – UK
Susan Payne – AUSTRALIA
Susan Clare – UK
Suzanne Abraham- UK
Suzanne Accetta – USA
Suzanne Thigpen – USA
Svitlana Eccles Kuznetsova – GERMANY
Takako Matsui – Japan
Tanya Van-der-Heijden – NETHERLANDS
Theresa Abbott – ENGLAND
Tim Phillips – ENGLAND
Trevor Byron – TRINIDAD
Valentina Gobbi – ITALY
Vandita Bansal – INDIA
Vanessa Wilkey – UNITED KINGDOM
Wiebke Meier – Germany
William Morello – ENGLAND
Won Chin Tong – MALAYSIA
Wyn Ericson – USA
Yoan Beugin – FRANCE
Yuji Uchiyama – JAPAN
Yuka Hirata – JAPAN
Zahra Hamze – IRAN